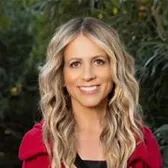 Anna Natcher, DPM
Dr. Natcher received her Bachelor of Science Degree from Northern Arizona University. She graduated with her Doctor of Podiatric Medicine degree from the California College of Podiatric Medicine in San Francisco, Ca. She completed a three year surgical residency program in Plantation, Florida in 2005. Dr. Natcher is Board Certified by the Board of Podiatric Medicine.
She enjoys all aspects of Podiatric medicine, with a special interest in Sports Medicine. In her spare time, Dr. Natcher likes to spend time in the mountains, ride her bikes and hike. She has completed a 500 mile bike ride across Iowa, several 100 mile bike tours, and a few marathons.

As an athlete herself, she is sensitive to the injuries and stresses that the feet endure, and the importance of having healthy feet in order to enjoy life to the fullest.
She also enjoys being creative with several inventions and projects in the works.Dr. Natcher has been volunteering for Hospice of the Valley for many years providing foot massages to patients. She collects womens shoes in her office every Spring for Fresh Start Womens Foundation and has a sock drive for the homeless every winter.

Ana Burns, DPM
Dr. Ana Burns joined NSFAAC in 2021. She has practiced in the valley for over 17 years, specializing in wound care, diabetic foot care, and foot surgery. She graduated from Temple University School of Podiatric Medicine and completed her surgical residency in Philadelphia, PA.
She is board certified in foot surgery by the American Board of Foot & Ankle Surgery. She enjoys spending time with her family, going to the beach, baking, and working out.